Welcome to Friday Fun Day... which means we don't have anything specific to bark about, so we're making something up or stealing from somedog else...
That, and we're
STILL
waiting to find out what breed Opie is.
Dogmom has had this link in her arsenal for a long time... help your human(s) to figure out how to take the quiz and post your findings in our comments section. We wanna see what kind of dogs you're all living with.
Our dogmom is a Great Dane. Here's the link: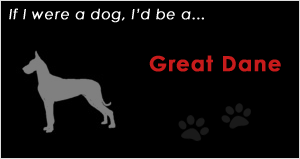 discover your dog breed @ quiz meme
What's your human?
Wuf Ya!